GERMAICA ITALIA
***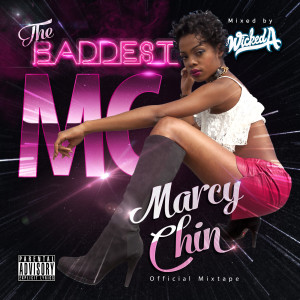 MARCY CHIN – THE BADDEST MC (MIXTAPE)
13 dicembre 2014
MARCY CHIN membro della BADA BADA GANG, crew dei più famosi WARD 21, si è fatta conoscere dalla massive europea proprio come spalla dei suoi mentori nell' ultimo tour europeo "Still Disturbed Part II". Il fortunato tour, che ha toccato tutti i maggiori festivals e yards europea ha dato la giusta oppurtunità a MARCY CHIN di mostrare le sue skills e il suo talento. E' proprio durante questo tour che MARCY incontra DJ WICKED-A, uno dei giovani più interessanti del panorama italiano già resident insieme a DJ MAD KID di "Downtown Bash", appuntamento di spicco per la Dancehall e il Reggae a Bologna e non solo.
MARCY CHIN ha modo di ascoltare il set di Wicked-A prima di una sua esibizione a Catanzaro, e decide di affidare al DJ italiano una serie di suoi pezzi da mixare, è cosi che nasce "The Baddest MC" primo collaborazione ufficiale di MARCY CHIN e dello stesso DJ WICKED-A, il tutto coordinato da PIONEAR aka PIONIERE, C.E.O. di "Germaica Digital", etichetta di spicco per la Dancehall made in Europa. Naturalmente non possono mancare collaborazioni eccellenti, come i feat. con TIMBERLEE e WARD. L'attitudine hardcore dell'artista viene esaltata da un ottimo juggling che rende questo mixtape piacevole e scorrevole dal primo all' ultimo minuto.
Download "Marcy Chin – The Wickedest MC" (Mixed by DJ Wicked A) here
Link up:
***
KG MAN – POSITIVE MUSIC OFFICIAL VIDEO
28 marzo 2014
KG MAN ha presentato ad inizio anno "International Business", suo primo album da solista dopo la lunga militanza nei QUARTIERE COFFEE.
L'artista italiano da quel disco ha già estratto due singoli con relativi video ufficiali, "Informers", in collaborazione con i MELLOW MOOD e "Reggae To Di World" con RAPHAEL.
E' arrivato ora il momento di scoprire "Positive Music".
***
WARD 21 – STILL DISTURBED – OUT NOW
23 gennaio 2014
Tutto è iniziato con il potente singolo "Mic Magician" alla fine dell'anno scorso ed è continuato con il pre relase del secondo singolo "Spot the J" una settimana fa, ed oggi vede la luce  un nuovo capitolo della storia della MAD FAMBILI di Waterhouse.
A differenza delle raccolte di singoli già rilasciati, come spesso succede per gli album dancehall, "Still Disturbed" è un concept album, ben costruito e strutturato.
Troviamo dei rifacimenti di riddim come "Stalag", "Heavenless", "Far East", in onore dei padri della danehall e degli skit che introducono ai vari segmenti dell'album. Gangsta tunes, Girls tunes e naturalmente non poteva mancare l'inno alla ganja in puro stile WARD 21.
Le produzioni sono curate soprattutto dai membri del gruppo KUNLEY e SUKU, con alcuni ospiti d'eccezione come i figli del grande KING JAMMYS, JAM 2 e BABY G che contribuiscono con un riddim ciascuno.
Le collaborazioni sono poche ma di peso, troviamo artisti come KONSHENS, SEAN PAUL e i membre della "Bada Bada Gang" MARCY CHIN e  DEWUNN
"Still Disturbed" è un viaggio negli ultimi 15 anni della dancehall, è l'essenza della dancehall,  e in ultimo ma non meno importante cerca di mantenere l'integrità del genere. Come dichiara la band "Potremmo adeguarci alle nuove tendenze e 'aggiornare' la nostra musica ma cerchiamo di mantenere sempre vive le radici della dancehall cosi da farla sopravvivere!"
WARD 21 fanno ciò che amano, senza programmare la loro musica, tutto nasce spontaneamente.
Dancehall pura e cruda è quello che WARD 21 offrono! Cos'è???
Quando balli davanti alle casse, basso e batteria arrivano potenti al tuo stomaco. Ecco il tipo di dancehall di cui WARD 21 stanno parlando!
***
Il mix ufficiale "Still Disturbed Album Mix" è stato missato da DjMoiz dei Kalibandulu Sound.
Ward 21 – Still Disturbed Album Mix by DJ Moiz/Kalibandulu
Ward 21 – Still Disturbed on iTunes
Ward 21 feat. Marcy Chin & DeeWunn – Mic Magician 
***
Ward 21 – Still Disturbed
01 Still Disturbed Intro
02 War Start
03 Mic Magician feat. Marcy Chin & DeeWunn
04 Ben' U Back feat. Sean Paul
05 Wife versus Mate feat. Marcy Chin
06 Rufus Loved Desrine (Skit)
07 Clappin' U Back
08 Cut Inna Face
09 U Shouldn't
10 Emergeny (Skit)
11 Herbs Man
12 Spot The J
13 Out feat. Konshens
14 Puncie
15 We A Danger
***
Title: Still Disturbed
Artiste: Ward 21
Feat. Artistes: Sean Paul, Konshens, Marcy Chin, DeeWunn
Producers: Kunley McCarthy for Wiletunes/Germaica Digital, Andre 'Suku' Gray for MiSik Muzik/Germaica Digital, Jammy 'Jam 2' James for Jam 2 Records, Trevor 'Baby G' James Jr. for Yard Vibes Entertainment
Format: Album (Digital)
Label: Germaica Digital
Distr.: finetunes
Release: Jan22 2014
***
Link Up:
Ward 21 Booking Contact: info@rhythmandflow.org
Ward 21 Management Contact: info@germaica.net
***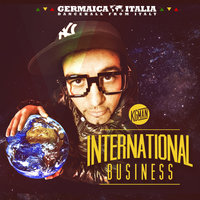 KG MAN – INTERNATIONAL BUSINESS ALBUM OUT NOW
14 gennaio 2014
KG MAN  esce con il suo primo album ufficiale dal nome "International Business", nome mai più azzeccato visto che si tratta davvero di un'operazione internazionale, ma prima ecco tutti i partners che hanno realizzato questo progetto.
La produzione artistica di International Business è di CIRO PRINCEVIBE PISANELLI che stà accompagnando il percorso di KG MAN Seguendo e monitorando l'evoluzione dell'artista.
Tante le collaborazioni nel disco: SIZZLA, LUCIANO, BOOM DA BASH, RAPHAEL e MELLOW MOOD.
L'album è stato concepito registrato composto e realizzato al "Boomker Suond Studio" di Firenze da CIRO PRINCEVIBE PISANELLI con musicisti di spicco dell'area Toscana (MATTEO MAGGIO, TONI MORETTO, ALBEDUDB, BOSKETTO) mentre i bassi di molti brani sono stati registrati da PAOLO BALDINI all' "Alambic Conspiracy Studio".
La produzione esecutiva ed artistica (in "Rev up di Engine" & "Here & Now") del disco è affidata a MORELOVE MUSIC questo brand new team si propone di dare un nuovo volto alle produzioni Reggae/Dancehall "Made in Italy" avendo in uscita riddims, singoli e video clip affidati hai più grandi artisti della scena mondiale.
DJ Moiz Kalibandulu : Official DJ
DJ MightyVibes : Web Marketing
Josthekey ( JTK Ent.) : Video Producer
Antonio Cassaro : Photographer
Francesco Bando (Be Thirteen Design): Graphic Design
La relase del disco prevista per il 14 Gennaio, e la distribuzione digitale, sono affidate ad una delle più importanti Label internazionali Reggae/Dancehall, GERMAICA.
***
Link Up:
KG Man – International Business su iTunes
KG Man feat. Raphael – Reggae To Di World su YouTube
***
KG MAN FEAT. RAPHAEL – REGGAE TO DI WORLD
07 gennaio 2014
Ecco "Reggae to the World" il primo singolo di KG MAN in combination con RAPHAEL. Questa canzone parla delle comunità Reggae mondiale e come questo genere possa oltrepassare ogni confine. E' stato cosi anche per l'album "International Business" (in uscita 14 Gennaio per GERMAICA ITALIA) che ha coinvolto grandi realtà internazionali. Un mondo unito da questo genere musicale suonato cantato ballato in ogni angolo del mondo una disciplina viva che sa rinnovarsi sempre.
Per questo: "Reggae to the World"!
Regia: Jos Vitolo (JTK Video)
***
Link Up:
Listen KG Man feat. Raphael – Reggae To Di World on soundcloud
***