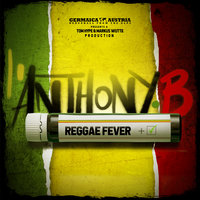 After his outstanding combination with Austria's top skier MANUEL FELLER, Jamaican reggae superstar ANTHONY B teams up with the Klagenfurt based label GERMAICA AUSTRIA to release his new summer hit 'Reggae Fever'.
The groovy uptempo style song is produced by TOM HYPE and MARKUS WUTTE and arrives just right in time for Summer!
Anthony B – Reggae Fever is available from June 9 2020 on iTunes, Amazon, Spotify, Google Play and all other digital outlets.
Enjoy!
***
Title: Reggae Fever
Artiste: Anthony B
Producer: Tom Hype & Markus Wutte
Label: Germaica Austria
Distr.: The Orchard
Release: Jun09 2020
***
Arrangement, Mix, Keys, Organ, Synth, Horns: Tom Hype
Guitars, Bass & Master: Markus Wutte
Harmonies: Manuela Aigner
Drums: Sam Gilly