GERMAICA LATINA
Darrio ft. Franco Verón – Turn It Up (Spanish Remix)
08 de Junio 2018
Después del éxito global de "Turn It Up" de DARRIO sobre el 'Bad Bratt Riddim' de Germaica Austria, DJ STEPWISE & GERMAICA LATINA les presentan el remix oficial en Español, junto a FRANCO VERON de Argentina. Con un ritmo dembow producido por TOM HYPE, este remix llega justo a tiempo para la Copa Mundial – energético, bailable, y lleno de talento!
DARRIO ft. FRANCO VERON – Turn It Up (Spanish Version) ya disponible en iTunes, Amazon, Spotify, Google Play y otras plataformas digitales.
Darrio ft. Franco Verón – Turn It Up (Spanish Remix) Lyrics Video
Darrio ft. Franco Verón – Turn It Up (Spanish Remix) on soundcloud
Darrio ft. Franco Verón – Turn It Up (Spanish Remix) on iTunes
***
Title: 'Turn It Up' (Spanish Remix)
Artiste: Darrio ft. Franco Veron
Producer: Tom Hype for Germaica Austria
Guitar: Markus Wutte
Master: Martin Scheer
Label: Germaica Latina
Release: Jun08 2018
***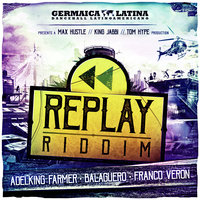 VVAA – REPLAY LATINA RIDDIM
15 de septiembre 2017
Después del éxito del hit de GENERAL DEGREE "Feeling Irie", mas tunes de DA'VILLE, LUKIE D, NYANDA, & ZAGGA, el Replay Riddim llega a Latinoamerica! Este viernes 15 de septiembre GERMAICA vuelve con puro fuego. A través del subsuelo latinoamericano GERMAICA LATINA, les traemos 3 canciones sobre el REPLAY RIDDIM, 100% en español! DJ Stepwise les presenta un one riddim latino con temas de ADELKING FARMER de Venezuela, BALAGUERO de Chile, y FRANCO VERON de Argentina. Producido por MAX HUSTLE, KING JABBI y TOM HYPE. Dale play!!
VVAA – Replay Latina Riddim on Spotify
***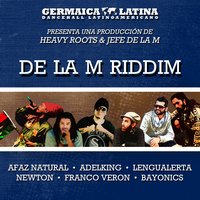 VVAA – DE LA M RIDDIM
06 de junio 2014
La nueva ola del reggae latino ha llegado: GERMAICA LATINA les presenta con su debut, el "De La M Riddim"! Producido por HEAVY ROOTS y JEFE DE LA M de España, este One-Drop riddim de New Roots apunta directamente para la pista de baile, con un bajo infeccioso que no te dejará quieto.
El riddim ofrece un cartel impresionante de artistas Latinoaméricos. Ganador del Rototom Reggae Contest Latino, el venezolano ADELKING abre el marcador con su grito por la paz en "Mi Cañón", mientras que el #1 MC del Ragga Hip Hop colombiano AFAZ NATURAL mantiene la energia elevada con "Souljah del Ghetto". La nueva voz del Reggae argentino FRANCO VERON pega duro con su hit "Killa", igual que el veterano dominicano NEWTON con "Traigo Plena". El riddim cierra con dos exponentes del reggae latino norteaméricano: la banda de fusion latina BAYONICS de San Francisco, California da una advirtiencia contra la "Batalla en Babylon" que se vive hacia al norte, mientras que LENGUALERTA de Mexico canta una para las mujeres con "Mujer".
Uniendo Latinoamérica una cancion a la vez, el "De La M Riddim" ya esta disponible en iTunes, Spotify y en varias plataformas digitales. Llévatelo!
VVAA – De La M Riddim en itunes
VVAA – De La M Riddim en soundcloud
Link Up:
***
WARD 21 – STILL DISTURBED – YA A LA VENTA
28 de enero 2014
Esto es Dancehall Real para Gente Real, un álbum Real para Musica Real. El quinto álbum de studio de WARD 21 "Still Disburbed" ha llegado!
Lo que empezó con un gigantesco single "Mic Magician" a finales de año ha continuado con el prelanzamiento del segundo single "Spot The J". Un nuevo capítulo en la historia de de la MAD FAMBILI de Waterhouse ha empezado!
A diferencia de los habituales recopilatorios de 45 pulgadas sin apenas temas nuevos, bastante común en discos de dancehall, "Still Disturbed" the WARD 21 es prácticamente nuevo y bien elaborado, con reminiscencias a los padres del Dancehall y con ritmos classicos como el "Stalag" "Heavenless" o "Far East" riddim. Pequeñas intros hacen las transciciones del disco. Liricas de Gangsters, de mujeres y por supuesto himnos a la hierba no podían faltan en este disco.
Las producciones provienen en su mayoría de sus propios intergrantes, KUNLEY y SUKU así como los hijos de KING JAMMYS JAM2 Y BABY G aportando una producción cada uno.
Hay pocas colaboraciones pero selectas: SEAN PAUL, KONSHENS y dos de los integrantes de "Bada Bada Gang", MARCY CHIN y DEEWUNN.
"Still Disturbed" dejará huella dentro de los últimos 15 años del Dancehall, es la esencia del Dancehall y sin duda un disco que contribuirá a salvar la integridad del género. WARD 21 pueden modernizar y actualizar su estilo pero siempre mantienen viva las raíces de la música para que el Dancehall sobreviva. WARD 21 hacen lo que les gusta, ellos no planifican las canciones, les sale natural! WARD 21 es puro Dancehall crudo y real. ¿Que que es esto? Cuando tu te plantas en frente de la PA de sonido y el bajo y los graves te golpean la barriga, eso es el Dancehall que WARD 21 conoce!
Ward 21 – Still Disturbed Album Mix by DJ Moiz/Kalibandulu
Ward 21 – Still Disturbed on iTunes
Ward 21 feat. Marcy Chin & DeeWunn – Mic Magician 
***
Ward 21 – Still Disturbed
01 Still Disturbed Intro
02 War Start
03 Mic Magician feat. Marcy Chin & DeeWunn
04 Ben' U Back feat. Sean Paul
05 Wife versus Mate feat. Marcy Chin
06 Rufus Loved Desrine (Skit)
07 Clappin' U Back
08 Cut Inna Face
09 U Shouldn't
10 Emergeny (Skit)
11 Herbs Man
12 Spot The J
13 Out feat. Konshens
14 Puncie
15 We A Danger
***
Title: Still Disturbed
Artiste: Ward 21
Feat. Artistes: Sean Paul, Konshens, Marcy Chin, DeeWunn
Producers: Kunley McCarthy for Wiletunes/Germaica Digital, Andre 'Suku' Gray for MiSik Muzik/Germaica Digital, Jammy 'Jam 2' James for Jam 2 Records, Trevor 'Baby G' James Jr. for Yard Vibes Entertainment
Format: Album (Digital)
Label: Germaica Digital
Distr.: finetunes
Release: Jan22 2014
***
Link Up:
Ward 21 Booking Contact: info@rhythmandflow.org
Ward 21 Management Contact: info@germaica.net
***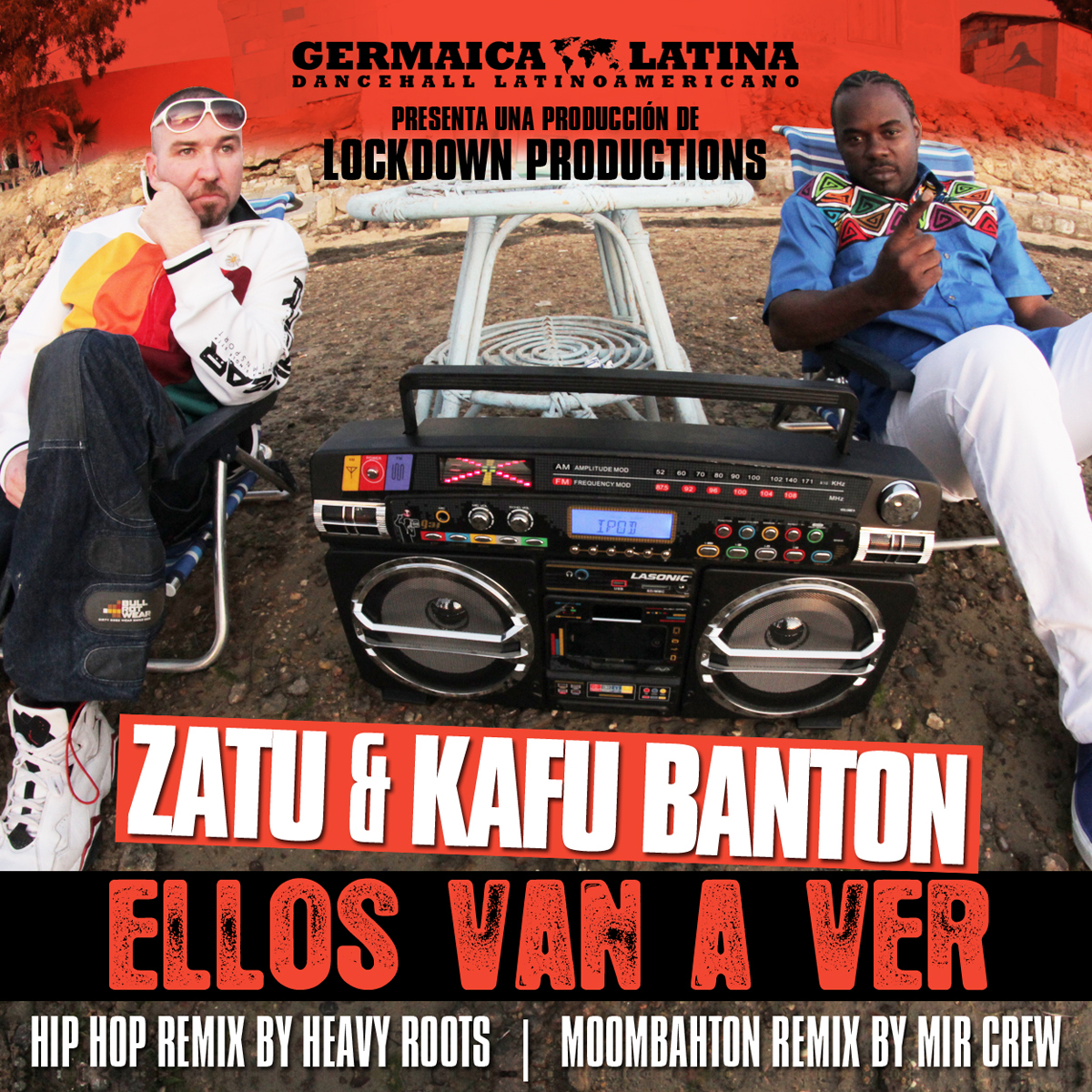 ZATU & KAFU BANTON – ELLOS VAN A VER EDICIÓN LATINA
14 de Junio 2012
GERMAICA aterriza en Latinoamérica! Si hace unos días les informábamos de la apertura de la nueva discográfica de Reggae en Latinoamérica, hoy les traemos la primera referencia de esta discográfica. Después de la buena acogida que tuvo el single de ZATU con KAFU BANTON "Ellos van a ver", con su videoclip con mas de 1 millon y media de visitas; GERMAICA LATINA, la nueva división del internacionalmente conocido sello alemán GERMAICA, se estrena en Latinoamérica con la edición en formato digital del Maxi "Ellos van a ver – Edicion Latina".
GERMAICA LATINA nos trae un maxi de 3 canciones (el tema original y dos remix). Bajo las producciones encontramos a los incombustibles HEAVY ROOTS (España) que nos traen otra fresca producción a caballo entre el Reggae y el Hip Hop, mientras que  MIR CREW (Suecia) nos aportan el sabor mas electrónico, una producción de Moombahton que con total certeza no va a dejar a nadie indiferente. GERMAICA LATINA se presenta en Latinoamérica con esta primera referencia un primer avance de lo que se viene…
"Ellos van a ver – Edicion Latina" esta disponible en itunes y demás plataformas digitales asi como en Spotify. Pueden escuchar ambos remix en los siguientes enlaces:
Zatu & Kafu Banton – Ellos van a ver (Hip Hop Remix by Heavy Roots) en Youtube
Zatu & Kafu Banton – Ellos van a ver (Hip Hop Remix by Heavy Roots) en SoundCloud
Zatu & Kafu Banton – Ellos van a ver (Moombahton Remix by Mir Crew) en Youtube
Zatu & Kafu Banton – Ellos van a ver (Moombahton Remix by Mir Crew) en SoundCloud
Link Up:
Zatu & Kafu Banton – Ellos van a ver en iTunes
Zatu & Kafu Banton – Ellos van a ver en Spotify
***
*** *** *** *** *** *** *** *** *** *** *** *** *** *** *** *** *** *** *** ***
***
UN PASO HACIA EL DANCEHALL EN LATINOAMERICA
09 de Junio 2012
Por fin es apropiado declararlo: La cultura Reggae se ha instalado en Latinoamérica. Desde aquellos primeros pasos de NANDO BOOM y EL GENERAL, la movida de Reggae latina se ha convertido en una fiebre total. Mes tras mes, la cantidad de artistas latinos, canciones en español, shows en vivo y ante todo, público fiel han explotado por todo el continente. Varios países latinos – Panama, Costa Rica, Chile, entre muchos mas – ya se han establecidos como fábricas de Reggae en español, y ahora lo único que queda es unirlos todos abajo una sola bandera. Para eso ha llegado GERMAICA LATINA.
GERMAICA LATINA es una filial de la discográfica alemana internacionalmente conocida como GERMAICA, que en su larga historia ha editado una gran cantidad de hits, como "It's A Pity" de TANYA STEPHENS o "Shining Star" de T.O.K. entre muchos otros. GERMAICA LATINA, la subdivisión más nueva del proyecto, tiene la intención de convertirse en un referente de la movida de Reggae para toda Latinoamérica, colaborando con grandes nombres del género así en Latinoamérica como en otros partes del mundo.
Entre las filas de GERMAICA LATINA se encuentran tres personas con una gran trayectoria musical a nivel internacional: PIONEAR (Germaica Digital / Germaica Iberia); DJ STEPWISE (Galang Radio / Guiding Star Agency); y ROC TEBE (Rhythm and Flow / Germaica Iberia), haciendo una conexión transoceánica entre Leipzig (Alemania), Oakland (USA), Barcelona (Catalunya). Por el momento GERMAICA LATINA trabajara a modo digital con la edición de one riddims, singles y álbumes, los cuales saldrán a la venta a través de iTunes y otras plataformas digitales.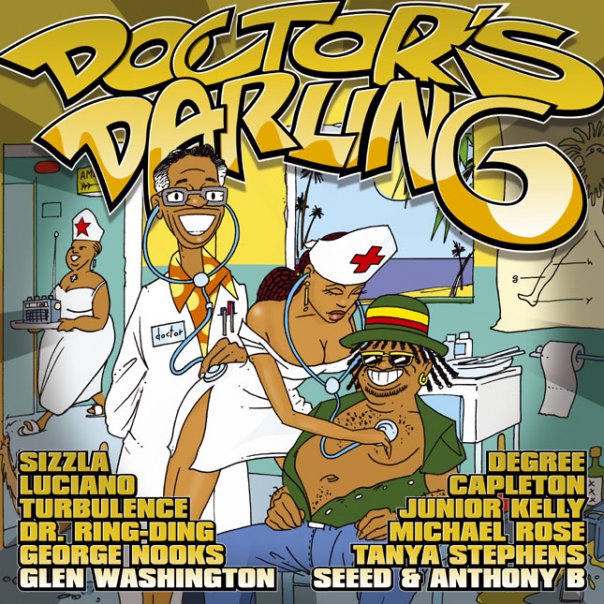 A continuación les dejamos un poco mas de información sobre la historia de GERMAICA. GERMAICA fue fundada en 1999 por PIONEAR en Leipzig, ciudad de la Antigua Alemania del Este. Entre 1989 y 1999 el fue el ingenio de la banda de Reggae alemana llamada "Messer Banzani" y, con la ayuda de su mentor musical DEAN FRASER quien le introdujo a la escena de Reggae jamaicana, en 1998 hizo su debut como productor con el riddim "Final Judgement", editado por el famoso sello KING JAMMYS. PIONEAR, después de vivir en Jamaica del 1998 al 2000, volvió a Alemania para crear su propio sello. Asi pues meses mas tarde lanzaba su primer ritmo en Europa,"Bitch" (2000) producido en Celestial Studio, propiedad de Steven Ventura. Dicho riddim contaba con artistas como: ELEPHANT MAN, LADY SAW, DEGREE, HAWKEYE, LUKIE-D o KIP RICH, siendo automáticamente un hit y el riddim mas vendido en Alemania ese año.
Aun asi no es hasta el 2002 cuando el GERMAICA cruza todos los continentes con el ritmo "Doctor's Darling riddim", interpretado por la banda alemana SEEED. En particular el single "It's a Pity" se convierte en un himno a nivel mundial: La canción llego al nº1 de los charts en Trinidad (durante 8 semanas) en Atlanta y en Nueva York. Dicho single fue incluido  en el prestigioso recopilatorio del sello de reggae VP Records "Reggae Gold", asi como en la serie "Riddim Driven". Esta era la primera y única vez en la que una producción europea entraba en los cotizados recopilatorios de VP. Hasta la fecha GERMAICA ha editado 19 riddims y mas de un centenar de singles en 45", con otros hits mundiales como el "Cure Riddim" entre ellos.
En el 2008 Pionear renombre el sello a GERMAICA DIGITAL, empezando a crear diferentes subsellos por todo el mundo: GERMAICA IBERIA, GERMAICA BALKANS, GERMAICA AUSTRIA, GERMAICA POLSKA and GERMAICA JAPAN. Ahora le ha llegado el turno a GERMAICA LATINA.
Leipzig/Oakland/Barcelona – Junio 2012
Link Up:
E-mail: germaicalatina@germaica.net