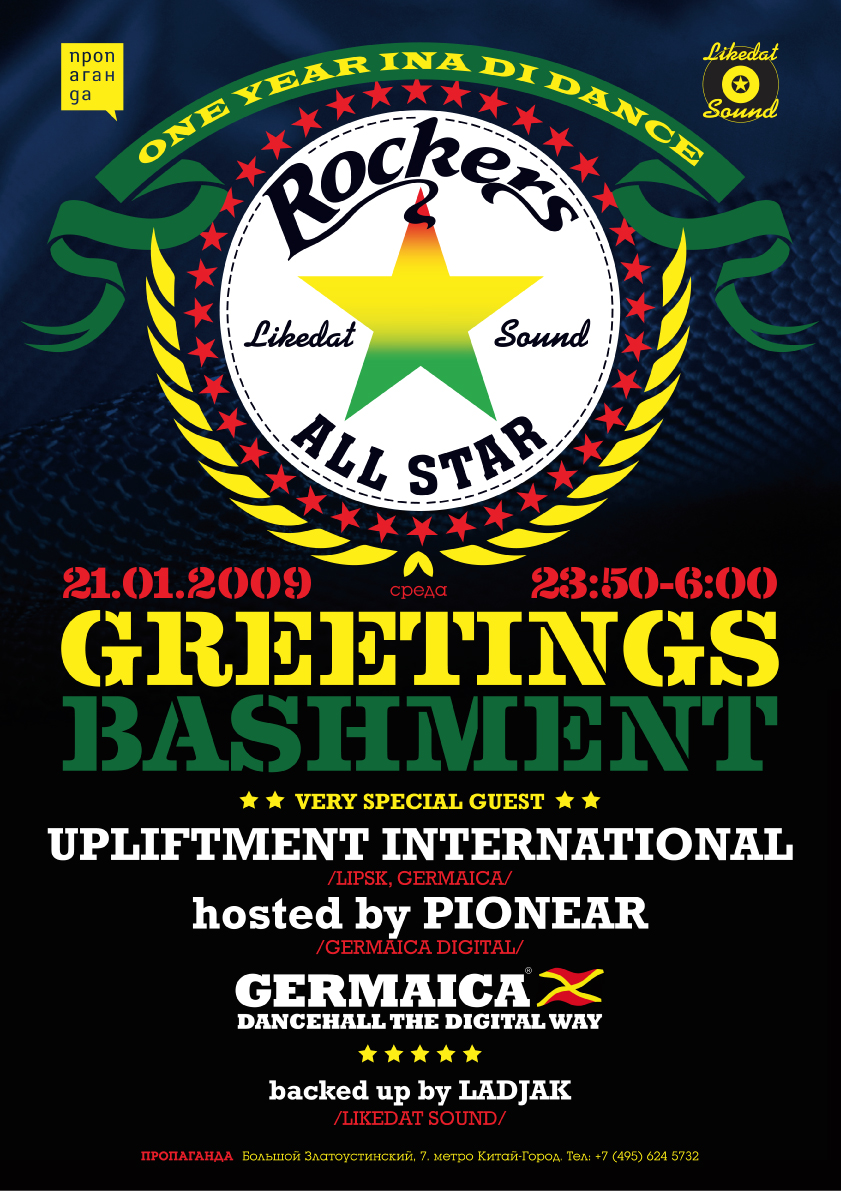 English version below…
ДЖАРМЕЙКА НА ПУТИ К РОССИИ!
21 Января 2009 года, представители немецкого дансхол лейбла ДЖАРМЕЙКА (GERMAICA), во главе с основателем лейбла Пионером (Pionear) и его коллегой селектором Фло (Selector Flo) из саундсистемы Аплифтмент Интернешенл (Upliftment International), выступят на юбилейной вечеринке Rockers All Star, в московском клубе Пропаганда. Там же, под их руководством, среди российских исполнителей, выступающих в стиле реггей и дансхол, пройдёт финальная битва за право участия в записи нового проекта от ДЖАРМЕЙКА ДИЖИТАЛ (GERMAICA DIGITAL)! Цель проекта – собрать наиболее интересных артистов, читающих и поющих на славянских языках, в рамках записи нового ридима под названием "Slavski Messer Banzani". Победитель финальной битвы, будет представлять российскую сцену в записи вместе с лучшими артистами из Польши, Чехии и других славянских государств.
Все, кто чувствует в себе силы побороться за возможность быть в числе первых русскоязычных реггей и дансхол артистов, принимающих участие в проекте такого масштаба, присылайте своё демо на русском языке на адрес:
likedatsound@rambler.ru
Заявки принимаются до 15 января 2009 года. По результатам прослушивания Ваших произведений продюсерским составом лейбла ДЖАРМЕЙКА (GERMAICA), будут отобраны наиболее интересные, по их мнению, исполнители, которые и примут участие в финальной битве на вечеринке Rockers All Star в клубе Пропаганда!
Условия финального тура: Участники по результатам жеребьёвки должны будут проявить свои вокальные данные под один из риддимов лейбла ДЖАРМЕЙКА (GERMAICA), который поставит селектор Фло. Победитель будет объявлен по итогам зрительских симпатий.
Желаем Удачи!
***
English version:
GERMAICA GOES ROSSIJA!
On January 21st GERMAICA mastermind PIONEAR together with Selector FLO of UPLIFTMENT INT'L play their Russia debut at Moscow's KLUB PROPAGANDA – celebrating the 1 year anniversary of the regular "Rockers All Star" of Moskwa's original sound LIKEDAT. At the same time there will also be held a contest that will determine which Russian Artiste will be part of a "Slavski" riddim release on the GERMAICA DIGITAL imprint later this year… The winner will accompany representatives from other Slavic countries like Poland and ex-Yugoslavia… Russian Artistes willing to participate, please send mp3 demo until Jan. 15th to the following e-mail adress:
likedatsound@rambler.ru
From the demos will be chosen the Artistes which will take part in a knock out competition at the Dance where all participants have the chance to perform on GERMAICA riddims. Judged by a jury consisting of the night's audience the winner will be announced on the spot!
Link up: