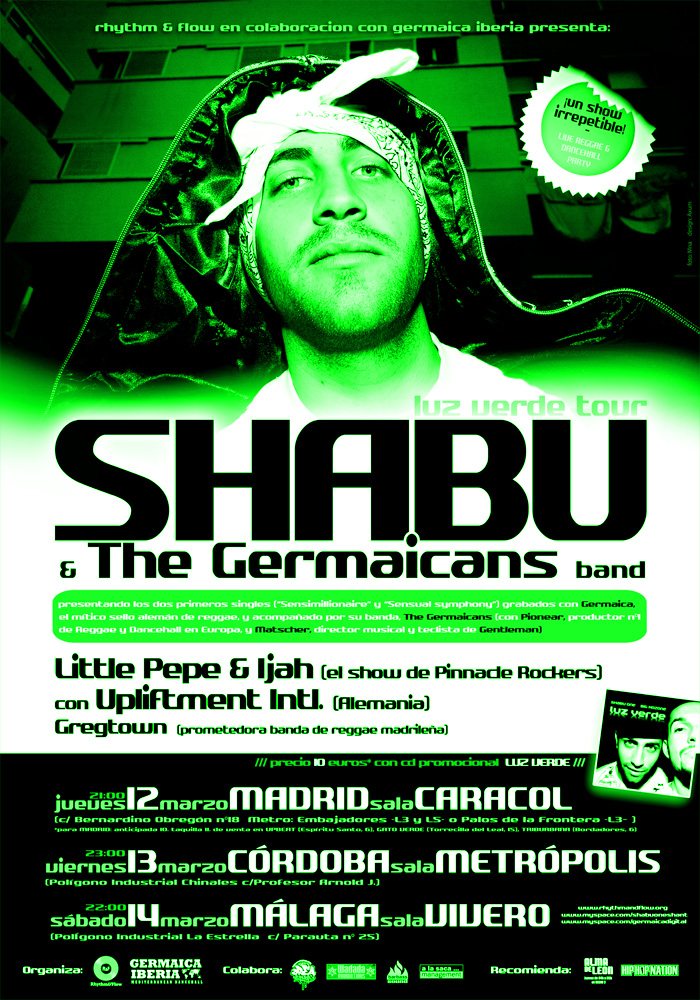 Germaica Iberia en colaboración con Rhythm and Flow presenta: SHABU & THE GERMAICANS. La presentación oficial del último trabajo de SHABU ("Luz Verde") así como de sus primeros singles europeos (GERMAICA DIGITAL). Dicha presentación se realizará con una de las mejores bandas de Reggae alemana: THE GERMAICANS (Con la participación de PIONEAR – productor nº1 de Reggae en Europa– y Matscher – teclista y ex – director musical de Gentleman).
Dicha actuación también será la presentación oficial de GERMAICA IBERIA, subsello de GERMAICA DIGITAL que apostará por el Reggae y Dancehall hecho en nuestro pais, muy pronto os desvelaremos los detalles. Es por eso que dicha actuación va a contar con la participación del sound system UPLIFTMENT INT'L (Leipzig/Alemania). Este concierto también contará con la participación de PINNACLE ROCKERS, formación de la que SHABU es integrante junto a LITTLE PEPE e IJAH . Y por último y no menos importante tendremos la participación de una joven y promotedora banda de Reggae madrileña: GREGTOWN. SHABU & THE GERMAICANS van a hacer 3 únicas fechas en España: Madrid, Cordoba y Málaga. Así que no os perdáis un show irrepetible.
SHABU & THE GERMAICANS + PINNACLE ROCKERS junto a UPLIFTMENT INT'L + GREGTOWN
JUEVES 12 MARZO – SALA CARACOL – 20:30h
Anticipada: 10€ // Taquilla: 11€ (cd"Luz Verde" de regalo).
Venta Anticipada en: Up Beat (c/ Espiritu Santo nº6),
Triburbana (c/ Bordadores nº6), Gato Verde (c/ Torrecilla del Leal nº 15 ).
VIERNES 13 MARZO – SALA METROPOLIS (23h-06h)
Entrada: 10€ (con cd "Luz Verde" de regalo).
SABADO 14 MARZO – SALA VIVERO – 21:00h
Entrada: 10€ (con cd "Luz Verde" de regalo).
Medios interesados en mas información, entrevistas, reportages y/o acreditaciones para alguno de los eventos, pónganse en contacto con: Rhythm and Flow: info@rhythmandflow.org
Link Up:
myspace.com/rhythmandflowpromotions