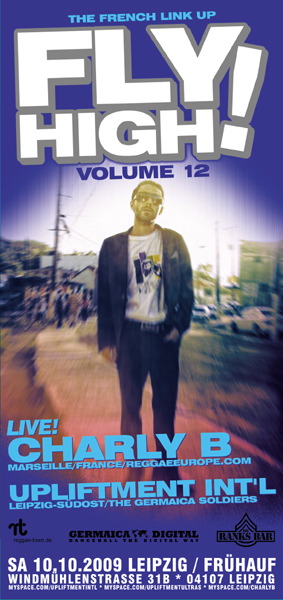 Nachdem bei der Saisoneröffnung im September ein neuer Besucherrekord aufgestellt wurde und LUTA sein Soloalbum erstmals live vorstellte, wird es nun Zeit das zwölfte FLY HIGH! zu feiern…
Dieses mal hat sich die UPLIFTMENT INT'L Cru den ersten französischen Gast eingeladen. CHARLY B aus Marseille ist gerade von einem Aufenthalt in Kingston/Jamaica eingeflogen, wo er in den GeeJam Studios sein neues Album aufgenommen hat. Erscheinen wird das Werk auf CHARLY Bs neuem Label REGGAEEUROPE.COM. Neben Stücken aus dem Album wird er natürlich auch seinen aktuellen Hit "To Bomboclaat" auf dem "Sleng Teng Refuelled" von WEEDY G aus der Schweiz und Material aus seinem stattlichen Katalog bei seinem Leipzig-Debut spielen.
UPLIFTMENT Selector TOM-A-GIDDEON wird an diesem Abend die frühen Stunden nutzen, um seinen brandneuen Mix "R'n'B Joints" vorzustellen und so den Musikmix aus Dancehall, Hip Hop und Caribbean von Leipzigs favourite Sound, noch weiter abzurunden… Der Mix wird am Einlaß im Club käuflich zu erwerben sein.
Der beste Sound der Stadt, mit dem besten Sound der Stadt, versorgt von der besten Bar der Stadt… and so we're calling all Dancehall Fans to the massive October issue of FLY HIGH!
Link Up: