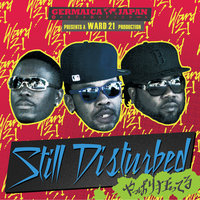 Today the new WARD 21 album "Still Disturbed is officially released in Japan through our local division GERMAICA JAPAN and our strategic partner P-VINE RECORDS, the oldest independent in Nippon.
The Japanese edition comes with the "Far East" and "Patty Crumbs" riddims plus the Japanese produced "The Return" as bonus tracks.
Buy Ward 21 – Still Disturbed Japan on iTunes Japan
***
In preparation of the release the "Remix Magician Competition" was held with 16 Remixers from Japan participating.
Here are the official winners and their prices:
Check KUNLEY & SUKU announcing the Japanese Remix Champions
1. Germaica Japan's champion: NICE☆J 
This Remix will be pressed as 45 (A-side is "THE RETURN" Bonus Track of the JP Release of "Still Disturbed") and released by Germaica Japan
2. Germaica Digital's champion: e-mura
This Remix will be released digitally on Germaica Digital
3. WARD 21's champion: Digital Ninja 774 
This Remix will be pressed as 45 (A-side is the "Mic Magician" original) and released by P-VINE RECORDS
***
Link Up:
Ward 21 – Still Disturbed on iTunes Japan
Ward 21 – Remix Magician Competition