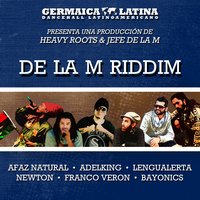 The new wave of Latin Reggae is here: GERMAICA LATINA presents it's debut "De La M Riddim"! Produced by HEAVY ROOTS and JEFE DE LA M out of Spain, this one-drop scorcher aims straight at the dancefloor, with a rolling bassline that keeps your head nodding from start to end.
The Riddim features an impressive line up of artists from across Latin America. Venezuelan-based Rototom Reggae Contest Latino winner ADELKING kicks things off with a militant cry for peace in "Mi Cañón", while Colombia's hottest Ragga MC AFAZ NATURAL keeps the energy elevated with "Souljah del Ghetto". Argentina's freshest new voice FRANCO VERÓN hits hard with his big tune "Killa," as does the Dominican Republic's veteran NEWTON with "Traigo Plena". The Riddim is rounded out with the smooth voices of two North American Latin Reggae greats: latin-fusion band BAYONICS from San Francisco, California gives a warning about the "Batalla en Babylon", while LENGUALERTA from Mexico sings one for the ladies with "Mujer (Tu Poder)".
Uniting Latin America one tune at a time, the "De La M Riddim" is available now on iTunes, Spotify and various other digital outlets!
VVAA – De La M Riddim en itunes
VVAA – De La M Riddim en soundcloud
Link Up:
***