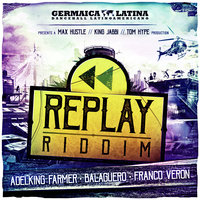 After GENERAL DEGREE's Hit Song "Feeling Irie" and an international selection feat. DA'VILLE, LUKIE D, NYANDA and ZAGGA, the Replay Riddim goes into it's next round! On September 15, 2017 GERMAICA's Latin America division "GERMAICA LATINA" releases the REPLAY LATINA RIDDIM. Another 3 high quality tunes – strictly in spanish! DJ STEPWISE presents ADELKING FARMER from Venezuela, BALAGUERO from Chile and FRANCO VERON from Argentina.
The REPLAY RIDDIM is produced by MAX HUSTLE, KING JABBI and TOM HYPE.
***
Después del éxito del hit de GENERAL DEGREE "Feeling Irie", mas tunes de DA'VILLE, LUKIE D, NYANDA, & ZAGGA, el Replay Riddim llega a Latinoamerica! Este viernes 15 de septiembre GERMAICA vuelve con puro fuego. A través del subsuelo latinoamericano GERMAICA LATINA, les traemos 3 canciones sobre el REPLAY RIDDIM, 100% en español! DJ Stepwise les presenta un one riddim latino con temas de ADELKING FARMER de Venezuela, BALAGUERO de Chile, y FRANCO VERON de Argentina. Producido por MAX HUSTLE, KING JABBI y TOM HYPE. Dale play!!
VVAA – Replay Latina Riddim on Spotify