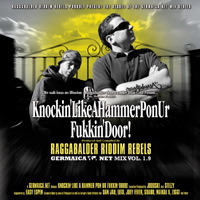 English version below…
RAGGABALDER RIDDIM REBELS er Norges fremste fanebærere for alle ting dancehall, og har lagd kaos rundt i Norges land siden 2001. De drita Nordlendingene spiller også rundt omkring i Skandinavia, og har også jobber i Tyskland, Polen, Tsjekkia og Nederland på samvittigheten. Nå er de i samarbeid med sine gode venner fra Leipzig, Tyskland, GERMAICA DIGITAL klar med en ny mixtape kalt "Knockin' Like A Hammer Pon Ur Fukkin' Door". GERMAICA og RAGGABALDER har hatt et tett samarbeid siden GERMAICA-sjef PIONEAR tok med RAGGABALDER-selector JODDSKIs gamle band TUNGTVANN på hans "Rodeo Europe" samler i 2005.
RAGGABALDER bruker mye av energien sin på å promotere lokale og Europeiske artister, og på "Knockin' Like A Hammer Pon Ur Fukkin' Door" får du også dubplates fra en helt ny generasjon med Skandinaviske og Europeiske artister. Fra Sverige, de nye stjerneskuddene DAN JAH og JOEY FEVER. Fra Nederland, ZIGGI og MAIKAL X. I tillegg er både Danmark, Tyskland, Polen og Spania representert. De to sistnevnte med henholdsvis LUTA (Wroclaw) og SHABU (Málaga), begge to av GERMAICA DIGITAL sine hovedsagtsninger fremover.
I tillegg får du spor fra flere andre Europeiske artister, og riddims produsert av danske PHARFAR og svenske KAPTEN RØD. Skandinavisk og Europeisk reggae er på en sinnsyk opptur for tida og RAGGABALDER og GERMAICA vil alltid gjøre sitt beste for å sette fokus mot de som fortjener det. Ellers minner "Knockin' Like A Hammer Pon Ur Fukkin' Door" mye om en RAGGABALDER-kveld slik den skal være: Het, svett, og proppful av "Up to di time Dancehall!
***
English version: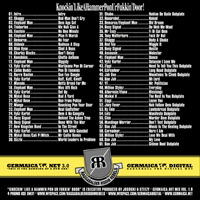 RAGGABALDER RIDDIM REBELS are Norway's number one torchbearers for everything Dancehall stands for, and have been wrecking havoc throughout Norway since 2001. The drunken North Norwegians also did play all over Scandinavia, and have had gigs throughout Germany, Poland, the Czech Republic and the Netherlands on their resume. RAGGABALDER are now ready with their new Mix-CD release called "Knockin' Like A Hammer Pon Ur Fukkin' Door", in cooperation with their good friends from Leipzig, GERMAICA DIGITAL . RAGGABALDER and GERMAICA have been working closely together since GERMAICA-boss PIONEAR included RAGGABALDER-selector JODDSKIs former band TUNGTVANN on his "Rodeo Europe" release in 2005.
RAGGABALDER put a lot of focus in to promoting local and European artists, and on "Knockin' Like A Hammer Pon Ur Fukkin' Door" you get dubplates from a new generation of Scandinavian and European artists. From Sweden, the new shooting stars DAN JAH and JOEY FEVER. From Holland, ZIGGI and MAIKAL X. Also represented is Germany, Denmark, Poland and Spain. The 2 latter with LUTA (Wroclaw) and SHABU (Málaga) respectively, both of them amongst GERMAICA DIGITAL main focuses in the near future.
In addition you get tracks from several other European artists, as well as riddims produced by Denmark's PHARFAR and Sweden's KAPTEN RØD. Skandinavian and European reggae is on a rise at the moment and RAGGABALDER and GERMAICA will always do their best to put the focus on those who deserve it. Other than that, "Knockin' Like A Hammer Pon Ur Fukkin' Door" is very much like a proper RAGGABALDER session: Hot, sweaty, and full up of up to di time dancehall!
Link up: