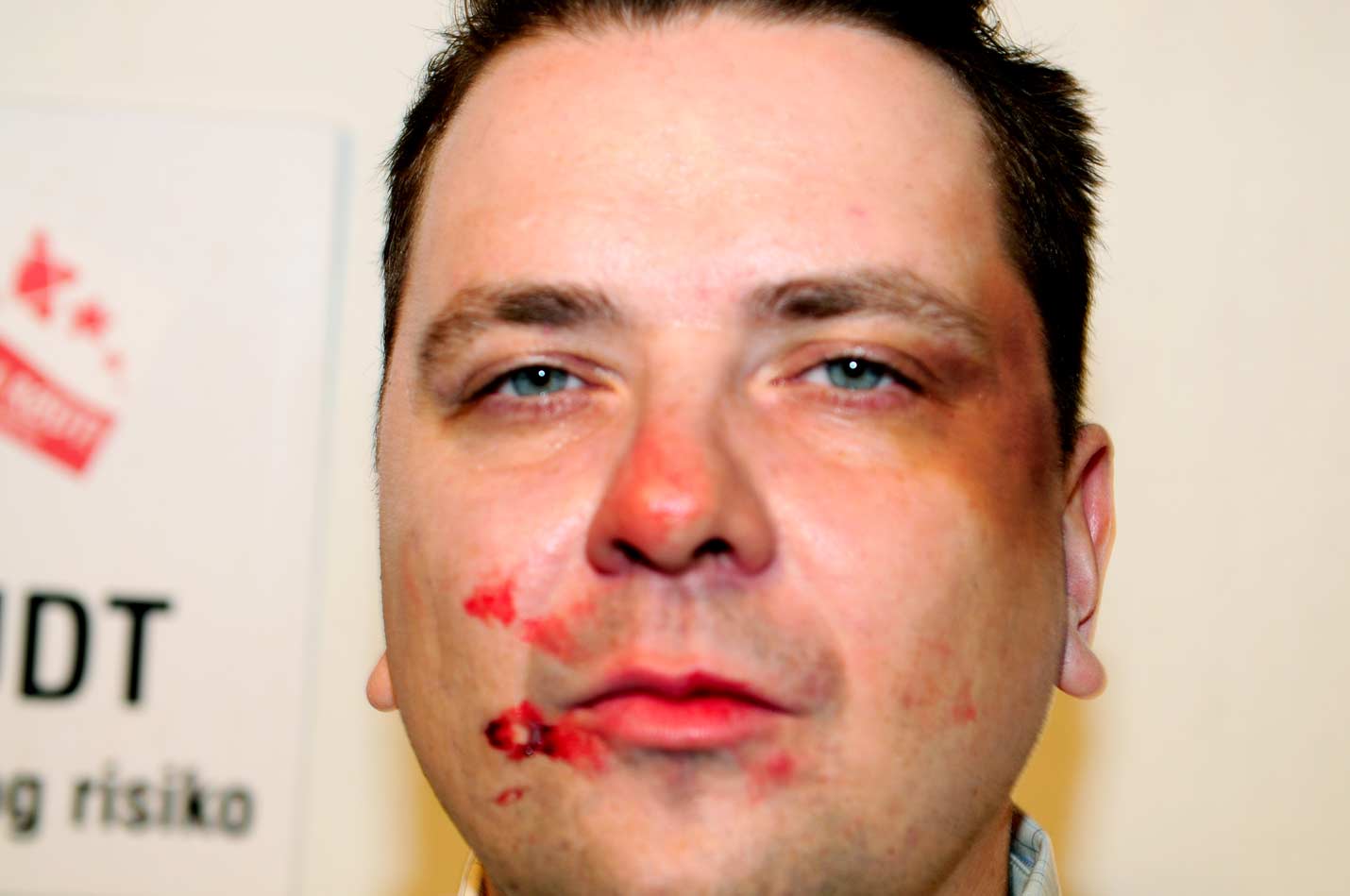 English version below…
JODDSKI, artisten tidligere kjent som JØRG-1 fra TUNGTVANN er tilbake for fullt. Siden jul har han bombardert internettet med coverlåter av blant annet Karpe Diem og Blacksheeps. Rett før sommeren kom videoen til partylåta "Laisa Det Opp", og siden det har han reist rundt med fullt band og fått journalistene til å trille 5ere på terninger med sine liveshows. Nå er den nye singlen "Luremus" sendt ut til radio.
"Luremus"-videoen er produsert av polske BOB ONE og PIONEAR og tar for seg kjøttmarkedet, og problemene man møter på der. Ei luremus er tradisjonelt sett ei jente som "lova og lyg", som de sier i nord. I denne låta er det motsatt. Jentene spiller jomfruelige for å ikke stå fram som horer, noe som er frustrerende for en ung mann på sjekker'n Regissør Thor Erling Brenne oppsummerer: "For meg er låten "Luremus" svart humor, aggresivitet og dirty sex – paret på sedvanlig, semipervertert JODDSKI-maner. Dette ble også settingen , og storyen i videoen. Jeg har rett og slett prøvd å visualisere uteliv og sjekking, fra det litt skjeve perspektet vi vel alle har inntatt av og til: God gammeldags alkonihilisme, avgrunnsdybde og primitiv jakt"
Videoen inneholder en del sterke scener, spesielt på sex-siden. JODDSKI sier at låten "selvsagt er basert på egne erfaringer men at navn er forandra for å beskytte de skyldige", og legger til at det låten tar for seg er det evige spillet mellom kjønnene man kan obsevere ute på byen. Et spill som blir mer og mer kynisk, spesielt for en enkel gutt fra landet.
Til og med på settet ble det drama, i det en statist som hadde blitt med dama si på "jobb" ble så sjalu når hun spilte inn noen litt pikante scener at han storma ut av lokalet, og dermed også ødela den scena han var statist i. At dama hans hadde lettkled i Vi Menn tidligere og at han visste om scenene på forhånd hjalp lite.
Her et knippe saker om den nye videoen:
http://www.tv2nyhetene.no/snop/norsk-rapkjendis-sjokkerer-festival-med-sexvideo-2869676.html
http://www.side2.no/musikk/article2692335.ece
http://www.730.no/musicItem.aspx?newsId=2527
http://kingsize.no/News.aspx?ArtNo=8653
http://www.an.no/parken09/article4528103.ec
Link up:
***
English version:
The new single "Luremus" from JODDSKI aka "The Germaica Viking" is causing a lot of controversy in his homecountry Norway, where the video was released this week. It's part of his first solo album which is expected for November 2009 and features the riddim debut of the Polish Artiste BOB ONE and vocal production and harmonies by PIONEAR.
People love it or hate it, since it puts the focus on the relationship issue in a different way. Joddski explains: "A "Luremus" is a known Norwegian expression. "Mus" means "mouse" and refers to the punanny, and to "lur" somebody means to trick them. It's usually referring to females who pretend to be willing to go all the way, but when you finally get them home, they suddenly change their mind. In the song "Luremus" this is turned on it's head, as it speaks upon ladies who pretend to be righteous and never doing anything "wrong", but when nobody's looking they go at it in the worst way. Many females act this way in fear of being labelled hookers (while their male counterparts are referred to as studs), but the fact of the matter is: Everybody likes a good slam bam, there's nothing wrong with a little bump'n'grind!"
He continues: "The Luremus video depicts a night on the town for 3 horny (and pretty beat up) guys looking for a one night stand, and portrays how this might go down on a fucked up Sunday night. With it's crosscutting it speaks upon the difference beetween what is said and what is actually done, as well as the games played beetween the opposite sexes in what in Norway is referred to as 'the meat market'".
So decide for yourself and check the "Luremus" video:
Joddski – "Luremus"
Director: Thor Erling Brenne
The tune will be released officially Sept. 14th through Joddski's label Bonnier Amigo.
Link up: