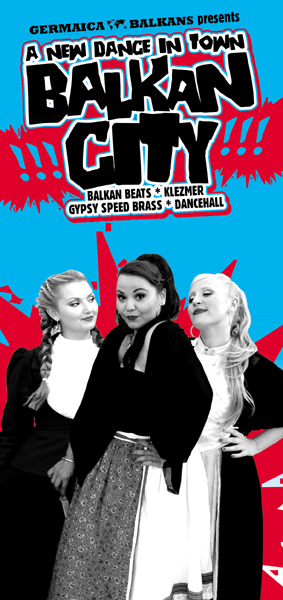 GERMAICA BALKANS PRESENTS:
BALKAN CITY
A NEW DANCE IN TOWN!
BALKAN BEATS * KLEZMER * GYPSY SPEED BRASS * DANCEHALL
live! the sensational
LAS BALKANIERAS
Dizeldorf-Split-Saratov/Germaica Balkans
LAS BALKANIERAS sind drei wunderschöne Frauen, die Hits schreiben, singen, tanzen, kochen, waschen und saubermachen können. Sie nennen ihre Musik Turbo-Electro-Folk-Pop mit Dancehall Elementen. Mit ihrer Debutsingle ĆIRIBIRIBELA, gewannen sie gerade den prestigereichen Newcomer-Preis beim SPLIT ´09, Kroatiens No.1 Song-Festival..
backed by Leipzig's No.1 sound
UPLIFTMENT INT'L
Leipzig-Südost/The Germaica Soldiers
UPLIFTMENT INT'L werden an diesem Abend für den Dancehall-Flavour sorgen. Der Sound hat innerhalb des letzten Jahres seine eigene monatliche Reihe FLY HIGH! in Leipzig etabliert, spielte bereits Shows in ganz Europa und veröffentlicht kontinuierlich Mix-CDs. Momentan arbeitet die Crew an ihrer ersten Riddim-Veröffentlichung, die für das Ende des Jahres geplant ist..
music by the incredible
KOSTA KOSTOV
Varna-Köln/balkanXpres Resident
KOSTA KOSTOV stammt aus Varna/Bulgarien und ist seit bereits 5 Jahren Resident-DJ der monatlichen Partyreihe "balkanXpress"(im Kölner Gebäude 9), sowie Musikredakteur beim WDR/Funkhaus Europa. Der Xpress raste mittlerweile bereits durch Clubs in Barcelona, Paris, Wien, Athen oder Rio de Janeiro..
Datum: 3.10. 2009
Ort: Leipzig/Lipsk
Club: Werk II
Adresse: Kochstraße 132, 04277 Leipzig
Beginn: 22.00 Uhr
Eintritt: VVK € 5,00/AK € 7,00
– Eine Veranstaltung der Reihe "Club Sessions" –
Link Up: