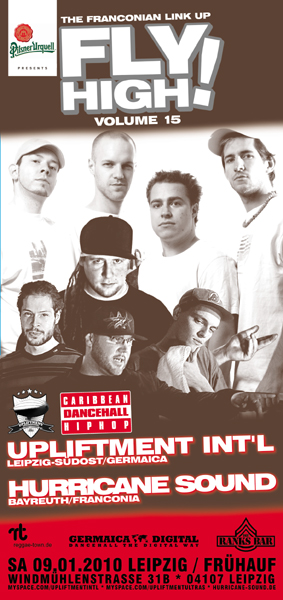 Der offizielle FLY HIGH! Monat mit 5 Veranstaltungen liegt hinter uns… und was war das für ein Monat! TOM HYPE aus Österreich und BRAMMA aus Jamaica backed by SENSI MOVEMENT aus Chemnitz im Stammclub "Frühauf", die FLY HIGH! ON THE ROAD Shows in Mittweida und Görlitz (wobei die Show in der östlichsten Stadt Deutschlands ein besonderes Highlight war – Big up all Niederschlesischer Oberlausitzkreis-Kru!) und das Grande Finale im Werk II zu Silvester, im "Togetherness"-Geist mit verschieden Crews aus Leipzig ("Velocity Sounds", "Pasha's Pleasure" und "Fraktion 42") durchgeführt, gaben ganz klar die Richtung für die neue Dekade vor: FLY HIGH! a go run things in LPZ und Saxony!
Und so heißen wir alle Partyleute willkommen zum ersten Leipziger Dance des neuen Jahres, FLY HIGH! VOL. 15 – THE FRANCONIAN LINK UP!
Zu Gast ist heute – nomen est omen – der fränkische HURRICANE SOUND. Schon seit einiger Zeit steht der Link zwischen Leipzig und der HURRICANE-Stadt Bayreuth. Die GERMAICA-Artistes vergangener Zeiten, waren gern gesehene Gäste auf den Dances im Fränkischen, jedoch erst heute bietet sich die Gelegenheit eines Rückspiels. Das Leipzig Debut des "Wirbelsturmsounds", solltet ihr nicht verpassen!
Das neue Jahr bringt auch einige Neuerungen, denn mit dem Erfinder des Pilsner Bieres – PILSNER URQUELL – können wir einen neuen Hauptsponsor in der FLY HIGH!-Familie begrüßen. No.1 und No.1, das gesellt sich gern!
Weiterhin empfiehlt die Ranks Bar zum Start des neuen Jahres das "Wiśniówka-Special". Aufgrund der aktuell frostigen Temperaturen, entschied man sich, den legendären polnischen Kirschwodka in Mengen einzufliegen und in das gastronomische Angebot aufzunehmen…
So ist also wieder alles gerichtet für einen ultimativen Dance im Frühauf – wir sehen uns dort!
Link up:
http://www.myspace.com/upliftmentintl
http://www.myspace.com/upliftmentultras