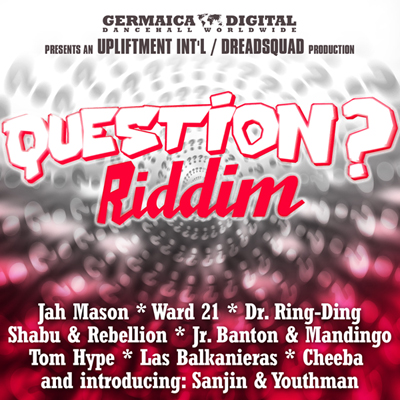 With this one Leipzig's premier Sound UPLIFTMENT INT'L enters the producers arena! Gaining experience in the studio by producing their Mixes and Dubs it was just a matter of time until the crew would start releasing their very own voicings…. And here we go with their debut the "Question? Riddim"! The instrumental is provided by DREADSQUAD from Lodz/Poland but some "Questions?" are left:
1st Question?: Why JAH MASON records his 1999 smash hit "Fire" again as FIRE 2011?
2nd Question?: Why the WARD 21 tune JUMP & SKIP was released previously already on a different label?
3rd Question?: Why DR. RING DING with German/French origin is biggin' up POLISH VODKA?
4th Question?: Why two Muslims like SHABU & REBELLION recorded KEEP ME ORIGINAL their combination with lyrics about God in a city the Pope blessed not too long ago?
5th Question?: Why JR. BANTON & MANDINGO sound like they recorded their tune DAGGADANG back in 1992?
6th Question?: Why TOM HYPE – first Artiste on our newest local division "Germaica Austria" sings all the lyrics of his tune in Patois except for the word EUROS?
7th Question?: Why LAS BALKANIERAS' song was renamed from "Marin" to MLADEN?
8th Question?: Is it just coincidence that CHEEBA of EastWest Rockers from Wroclaw calls his contribution to the riddim WYSOKI LOT which means "Fly High" just like the dance of Upliftment Int'l?
9th Question?: Are SANJIN & YOUTHMAN signed to "Germaica Balkans" now and is their tune VADIM PISTOLJ supporting the violence in the Dancehall??
10th Question?: Why the DREADSQUAD relick of the classic "Answer" Riddim was re-named to QUESTION? ?
You can listen and download the QUESTION? RIDDIM MegaMix here.
***
Title: Question? Riddim
Artiste: Various
Format: Album (Digital)
Label: Germaica Digital
Producer: Upliftment Int'l for Topp Ent./Germaica Digital
Musician: Marek Bogdanski for Dreadsquad/Germaica Digital
Master: Marek Bogdanski for Dreadsquad/Germaica Digital
Release: Jan. 28th 2011
Distributor: mp3.soundquake.com
***
Link Up:
http://soundcloud.com/upliftmentintl