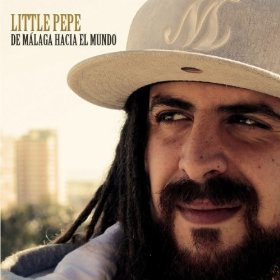 GERMAICA IBERIA está de vuelta con una nueva referencia del más elegante Reggae bajo el brazo. Tras la indudable buena acogida de sus dos anteriores referencias, este sello sigue apostando por la música jamaicana facturada en Málaga. En esta ocasión, hablamos del álbum debut de LITTLE PEPE: "De Málaga hacia el mundo", un disco muy completo que demuestra una vez más la versatilidad de este artista Malagüeño.
El titulo alude al sentido y espíritu internacional que late en este trabajo, con colaboraciones que cruzan fronteras y continentes. Ello da como resultado una mezcla exquisita que deviene una gran riqueza musical, del Reggae, Roots al Hip Hop, pasando por el Dancehall, con incluso algunos matices electrónicos.
Este trabajo marcará un punto de inflexión en la escena Reggae nacional, ya que la frescura musical que desprende atrapa desde el primer hasta el último tema. Su primer sencillo es "A trabajar", una producción noruega de Basmo Family en la que LITTLE PEPE explica desde lo más hondo de su ser la cruda realidad del mundo de la musica.
La vertiente más Dancehall del disco cruza 3 de los 5 continentes. Así, desde Europa, llega el inglés General Levy (UK) en "Baila Cruel" y el francés Daddy Mory en "Make Money". Desde África, concretamente desde Gambia, llega Rebellion The Recaller en "Tiempos Duros" y desde América… Daddy Banton en "A los manes del control" representando Costa Rica.
Parte del éxito de estos tracks se debe a las talentosas producciones de Bassrunner (Austria), que aporta la fuerza instrumental. Por su parte, el el groove más electrónico viene de la mano de Baymont Bross en "Baila Cruel".
El Hip Hop se queda mayoritariamente en tierras andaluzas de la mano de dos pesos pesados de la escena: Jefe de la M y Gordomaster (Triple X) en el himno "More Fyah", además de Juho y sus compañeros de viaje Pinnacle Rockers en "Push" y Dj Pera en las producciones y los scractches de "Producto del Barrio" o "El guiso". El tema que representa el Hip Hop en estado puro viene directamente de Detroit de la mano de Black Milk, uno de los nombres más relevantes en las listas norteamericanas, con dos versiones de "Champion Sound": diferentes aromas de la mano de dos grandes productores alemanes: Soulforce desde Krefeld y D-Fekt/Pionear desde Leipzig.
El Reggae Roots tiene marca austriaca gracias a la gran aportación de la banda House of Riddim, con dos producciones que enamorarán a los amantes de los sonidos más Reggae con "Descansen en Paz" y "Rising Up" en colaboración con New Kingston (banda y trío vocal de New York, conocidos por ser la banda de Collie Buddz aunque en esta vez su aportación sea como vocalistas). Desde Alemania llega Jr Blender y Silly Walks, quienes ponen su granito de arena en el éxito "Lo tengo que dar". Sin olvidar que también en nuestro país se hace buen Roots, muestra de ello son las producciones de Ras Kuko en "Quiere lo tuyo" y "Sigue tu vida", asi como Black Akadehmy en "Que no te enteras".
FICHA TÉCNICA
GERMAICA IBERIA: El Reggae en España esta de enhorabuena, el sello alemán GERMAICAN RECORDS (GERMAICA DIGITAL) ha abierto una filial en el estado español bajo el nombre GERMAICA IBERIA, con ella se pretende potenciar el Reggae y Dancehall hecho en nuestro país.
Germaican Records es la discográfica de Reggae-Dancehall pionera en Europa. Con más de 10 años de carrera musical han editado mas de 17 riddims, mas de 100 singles de 45″ y 12 discos (CD/LP). A parte han sido el primer y único sello alemán que ha colocado un single y una canción en los prestigiosas series americanas "Riddim Driven" y "Reggae Gold" editadas por VP Records . Paralelamente han sido los primeros en entrar en el mercado de Polonia (de la mano de Warner Music) y Japón (de la mano de P-Vine Records).
LITTLE PEPE:
Con este disco se consagra una de las nuevas promesas del Reggae de nuestro pais. Despues de un duro trabajo LITTLE PEPE ha encontrado su propio estilo, claramente diferenciado de sus compañeros de gremio. Reggae con sentimiento que habla de las realidades de su barrio, siempre con un mensaje positivo.
Después de la buena acogida que tuvo su anterior trabajo acompañado de Shabu: "Compartiendo" (GERMAICA IBERIA 2009) y de una larga gira con mas de 25 fechas por nuestro pais actuando en festivales como Viñarock 2010 LITTLE PEPE se ha ganado un hueco mas que merecido dentro de la escena Hip Hop y Reggae. Destacables las colaboraciones con Black Milk, SFDK, Triple X, Jefe de la M, El Capaz y Sicario (HP Squad).
Artista: Little Pepe
Discográfica: Germaica Iberia
Fecha Salida: 5 abril 2011
Formato: CD
Distribución: BOA Music
Mastering: Tobias Loy
TRACK LIST
01. Biribay
02. A trabajar
03. Sigue tu vida
04. Tu que tiene con Ijah
05. Son veterans
06. Push – Pinnacle Rockers con Juho
07. A los manes del control con Daddy Banton
08. Producto del barrio
09. Quiere lo tuyo
10. Rising up con New kingston
11. Que no te enteras
12. Tiempos duros con Rebellion The Recaller
13. Lo tengo que dar
14. Baila cruel con General Levy
15. Champion sound con Black Milk
16. No que va!
17. More fyah con Jefe de la M y Gordo Master
18. Make money con Daddy Mory y Shabu
19. El guiso
20. Descansen en paz
bonus track – Champion sound RFX