Finally it can be declared: Reggae culture installed itself in Latin America…. Since those first steps of NANDO BOOM y EL GENERAL in the 80s, the Reggae movement has turned into a total fever. Month after month the quantity of Latin artistes, songs in Spanish language, live shows and above everything the audiencw is growing all over the continent. Different Latin countries – Panama, Costa Rica, Chile amongst others established themselves as factories for Reggae in Spanish language. The only thing that is still missing is to unite them under one banner. That's why GERMAICA LATINA is arriving now…
GERMAICA LATINA is a sub label of the internationally acclaimed German Dancehall label GERMAICA which in his rich history has released numerous hits like TANYA STEPHENS'  "It's A Pity" or T.O.K.s "Shining Star" amongst others. Now this newest sub division has the goal to develop into a reference for the Reggae movement of the whole continent and will colaborate with great names of the genre from Latin America but likewise from other parts of the world.
Behind the project there are 3 persons with great international experience: PIONEAR (Germaica Digital / Germaica Iberia); DJ STEPWISE (Galang Radio / Guiding Star Agency); and ROC TEBE (Rhythm and Flow / Germaica Iberia), made a trans-oceanian connection between Leipzig (Germany), Oakland (USA) and Barcelona (Catalonia). For the moment GERMAICA LATINA is planning digital releases including Riddims, Singles and Albums.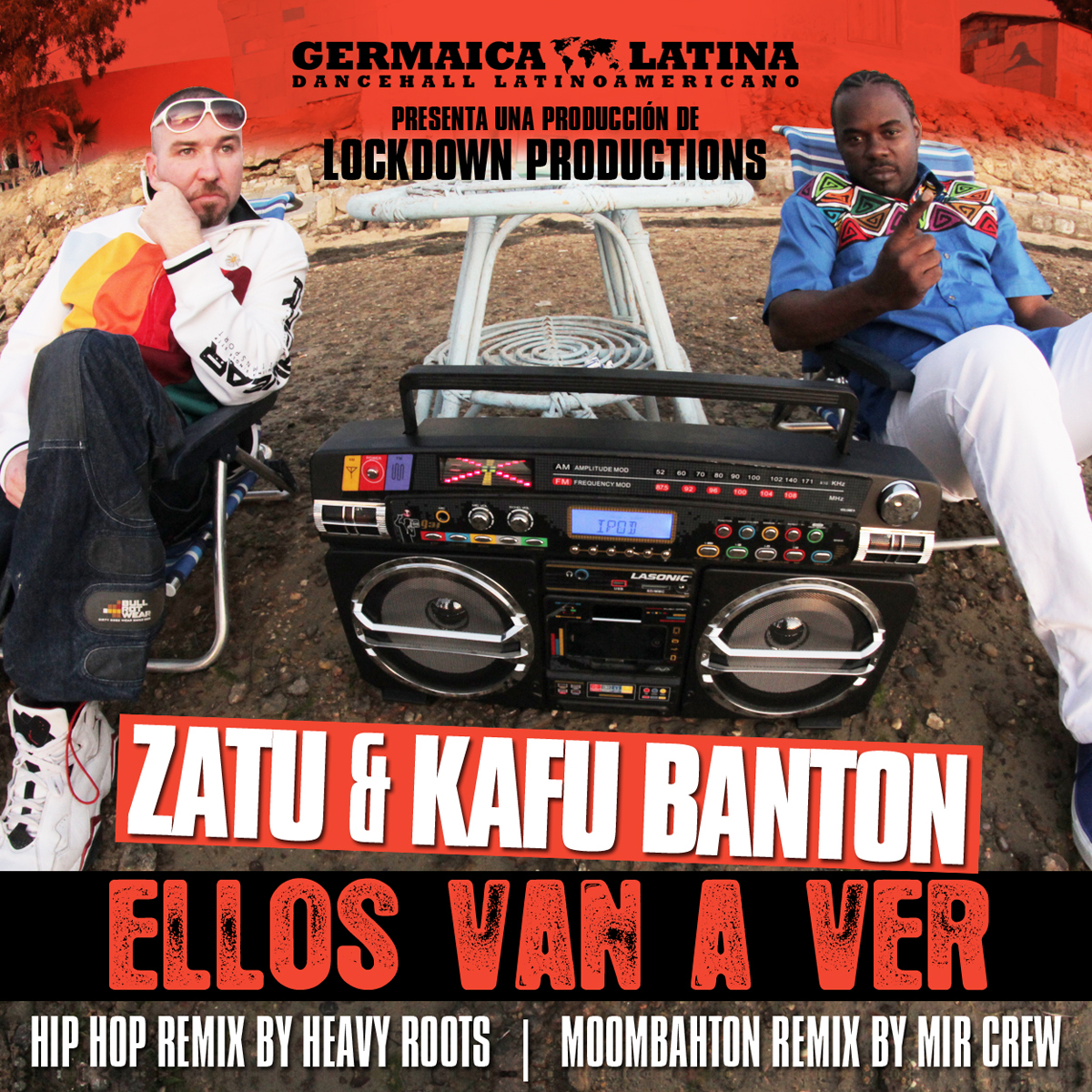 First release is for GERMAICA LATINA is the Maxi Single  "Ellos van a ver – Edicion Latina" of ZATU (SFDK) & KAFU BANTON which was originally released with great success (more than 1.5 mio. views on YouTube) in Spain. The "Edición Latina" now comes with 2 remixes plus the original song. The first remix is provided by rising producers crew HEAVY ROOTS from Valencia/Spain who present a fresh interpretation with their distinct Hip Hop and Reggae flavour, while  MIR CREW from Stockholm/Sweden give us a much more electronic approach Moombahton style.
GERMAICA LATINA is ready to roll!
Leipzig/Oakland/Barcelona – Junio 2012
***
"Ellos van a ver – Edicion Latina" is available in iTunes and other digital platforms like Spotify.
You could listen the remixes here:
Zatu & Kafu Banton – Ellos van a ver (Hip Hop Remix by Heavy Roots) on Youtube
Zatu & Kafu Banton – Ellos van a ver (Hip Hop Remix by Heavy Roots) on SoundCloud
Zatu & Kafu Banton – Ellos van a ver (Moombahton Remix by Mir Crew) on Youtube
Zatu & Kafu Banton – Ellos van a ver (Moombahton Remix by Mir Crew) on SoundCloud
Link Up:
Zatu & Kafu Banton – Ellos van a ver on iTunes
Zatu & Kafu Banton – Ellos van a ver on Spotify
E-mail: germaicalatina@germaica.net