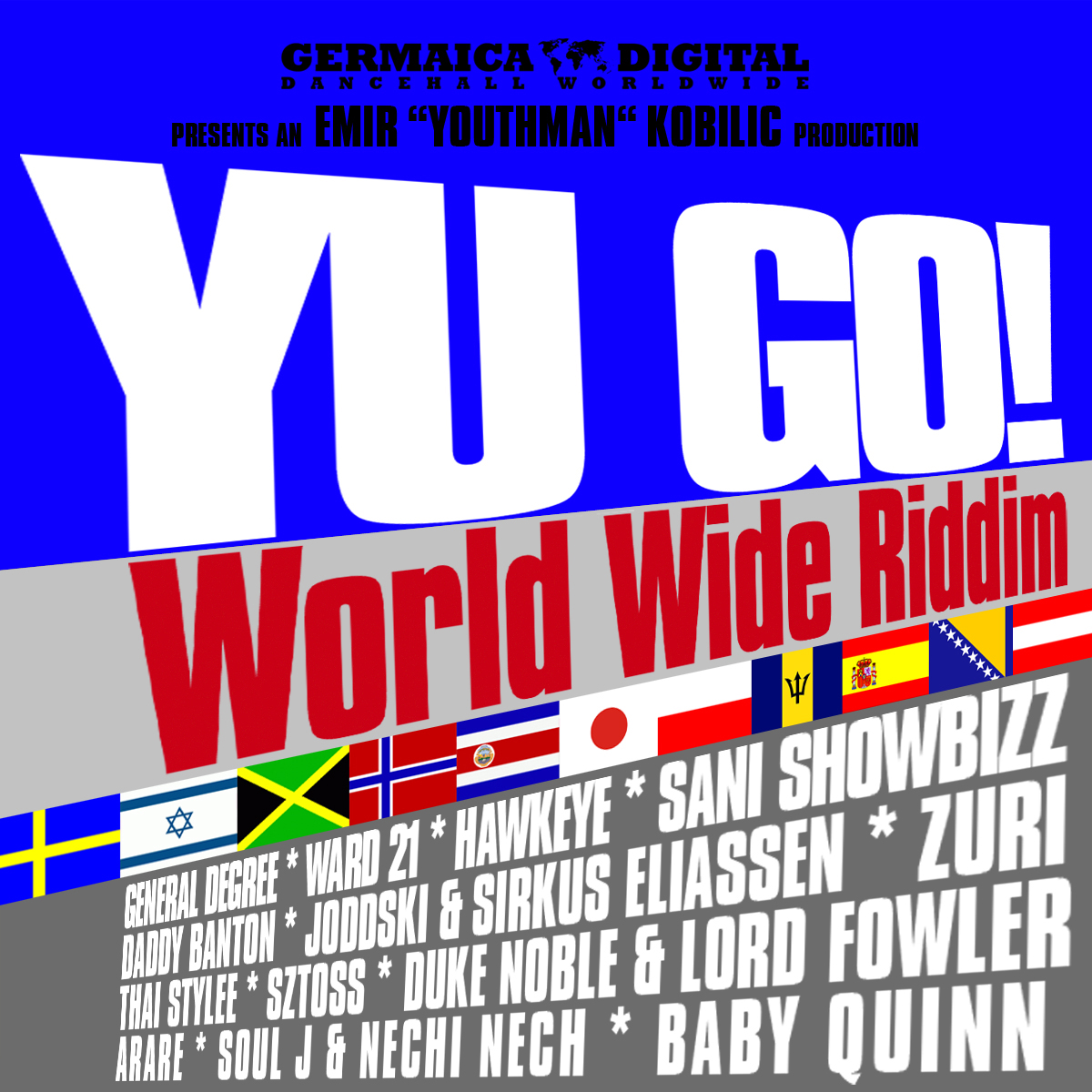 "Balkan Dancehall" takin' over" was the slogan, the prediction and the promise we made one year ago, when the original "Yu Go! Riddim" album was released. Today, 7 singles, 5 videos, +40 official  and about 60 nonofficial cuts later EMIR "YOUTHMAN" KOBILICs debut Riddim turned into a kind of "Sleng Teng Riddim" of the new millenium and made it's way once around the world.
We choose Artistes from 3 continents and 10 countries for the "Yu Go! World Wide Riddim" album including 4 performers from the motherland of Dancehall Jamaica: The already single released GENERAL DEGREE and HAWKEYE long time label affiliates WARD 21 and comedian SANI SHOWBIZZ.
Furthermore we feature one artiste each from our sub-divisions GERMAICA AUSTRIA (THAI STYLEE), GERMAICA IBERIA (ZURI), GERMAICA JAPAN (ARARE), GERMAICA LATINA (DADDY BANTON), GERMAICA POLSKA (SZTOSS) and the GERMAICA VIKINGZ (JODDSKI & SIRKUS ELIASSEN). The line up is completed by BABY QUINN from Barbados, SOUL J & NECHI NECH from Israel and DUKE NOBLE & LORD FOWLER who's origin unfortunately has to be kept secret for security reasons…
Listen and enjoy some of the finest Dancehall of this second decade of the century…
YU GO AND WE NAH STOP!
Yu Go! World Wide Riddim on iTunes
***
V.A. – Yu Go! World Wide Riddim
01. General Degree – Hypocrites (Jamaica)
02. Zuri – La cuenta atrás (España)
03. Ward 21 – Hotter Than The Summer (Jamaica)
04. Sztoss – Nic na siłę (Polska)
05. Hawkeye – My Life (Jamaica)
06. Daddy Banton – Indomable (Costa Rica)
07. Duke Noble & Lord Fowler – Stripper Love (Incognia)
08. Joddski & Sirkus Eliassen – Bort herifra (Norway)
09. Arare – Music Salesman (Japan)
10. Soul J & Nechi Nech – Woooy (Israel)
11. Baby Quinn – The Way Yu Go (Barbados)
12. Thai Stylee – My Kinda Gal (Austria)
13. Sani Showbizz – Mi Mek Up Anything Whe Me Waan (Jamaica)
***
Title: Yu Go! World Wide Riddim
Artiste: Various
Format: Album (Digital)
Label: Germaica Digital
Producer: Emir "Youthman" Kobilic
Musician: Emir "Youthman" Kobilic
Master: Emir "Youthman" Kobilic / Tobi Fresh for dubplaterescue.com
Release: Dec. 21th 2012
Distributor: finetunes
***
Link Up: