Kingston/Jamaica, Leipzig/Germaica, July 01st 2013
WARD 21 MUSIC and GERMAICA DIGITAL proudly announce that Leander "Pionear" Topp from today will serve as the world wide manager for Jamaican Dancehall group WARD 21.
After the recently finished first tour together, which in 6 weeks lead us through 8 European countries and proved that the chemistry between us is simply right, we decided to join forces and put the WARD 21 project on another level. Finally, the journey that started 15 years ago at the premises of KING JAMMYS studio in Waterhouse/Kingston, where we met first and started working together, has taken flight.
Furthermore we also announce that from today the world wide bookings of WARD 21 will be handled exclusively through RHYTHM & FLOW from Barcelona/Catalonia.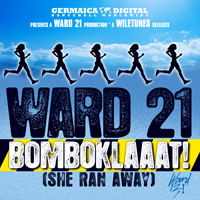 All WARD 21 fans can look forward to more madness, more music, more songs and more shows all around the globe very soon. Please also note that a new full length album of the "Mad Fambily" is in the making.
In the meantime enjoy the brand new tune "Bomboklaaat! (She Ran Away)" which was entirely meditated, recorded and produced on said tour. The video for the song shows – road-movie-style – what the girls, the clubs and the vibes have been like throughout Europe.
You can download "Bomboklaaat! (She Ran Away)" here.
***
From today please direct all requests regarding recordings, productions, promotional activities, shows and tours to:
Ward 21 Management, Mr. Leander "Pionear" Topp
Tel.: +49 172 360 2802 / Mail: info@germaica.net
Ward 21 Bookings, Mr. Roc Tebe Cordomi
Tel.: +34 630 265 547 / Mail: info@rhythmandflow.org
Link Up: