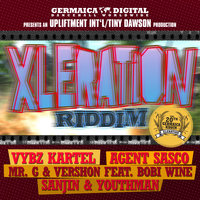 After almost 15 years of label history and global smashs like the "Doctor's Darling" and the "Cure" Riddim, and TANYA STEPHENS monster hit "It's A Pity" or T.O.K.s "Shining Star", today we release the 20th GERMAICA Riddim!
For the "Xleration Riddim" Leipzig based Dancehall Soundsystem UPLIFTMENT INT'L and upcoming producer TINY DAWSON joint forces to deliver a firmly Reggae rooted Instrumental which as well easily bridges the gap to nowadays sound aesthetics and arrangements.
Label chief PIONEAR digged deep in the label vaults and came back with a 2003 VYBZ KARTELL called "Marihuana Gone To Bed" to contribute to this jubilee release. AGENT SASCO sounds really "Michael Jackson-ish" on his "Universal Language (Love)" while the pre release single "High Grade" is another Ganja anthem by Dancehall Veteran MR. G aka GOOFY alongside Jamaican newcomer VERSHON and Ugandan Superstar BOBI WINE. The last song represents the growing European Dancehall fraternity with Bosno-Suedes SANJIN & YOUTHMAN and their entertaining "For A While" which is as well part of their debut EP "Balkan Dancehall (GERMAICA DIGITAL).
***
"Buy V.A. – Xleration Riddim"  on iTunes
Listen to "V.A. – Xleration Riddim" MeagMix by Federation Sound on soundcloud 
Listen to "V.A. – Xleration Riddim" MeagMix by Federation Sound on YouTube 
***
Title: Xleration Riddim
Artiste: Various
Producer: Upliftment Int'l / Tiny Dawson
Format: Album (Digital)
Label: Germaica Digital
Distr.: finetunes
Release: Dec17 2013
***
Link Up: