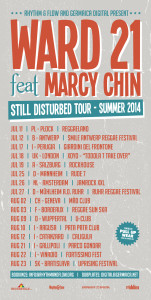 After the successful winter leg in January / February WARD 21 is going on the second part of the tour promoting their fifth studio album "Still Disturbed".
This summer the "Mad Fambili" is introducing a member of the BADA BADA GANG, MARCY CHIN to the audiences.
Known for her contribution to the latest international smash hit "Mic Magician", MARCY CHIN will add to the already energetic show of the Waterhouse Trio.
The "Still Disturbed Summer Tour 2014" will touch 16 spots in Poland, Belgium, Italy, England, Austria, Germany, Holland, Switzerland and France.
Remember: It's #RealDancehall for #RealPeople a #Realtour with #RealShows!
Video "Ward 21 feat. Marcy Chin & DeeWunn – Mic Magician"