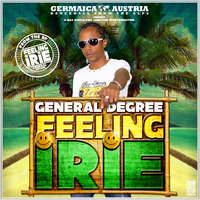 We're kickin off 2015 with one of GERMAICAs long time buddies, GENERAL DEGREE. His brand new single "Feeling Irie" is released today on our GERMAICA AUSTRIA division.
The feel good tune was produced by MAX HUSTLE, KING JABBI & TOM HYPE and is heralding the arrival of a brand new GENERAL DEGREE EP of the same name.
GENERAL DEGREE will embark on the "Feeling Irie Tour" on Feb06 with 12 stops in 7 countries in Europe.
Buy link "General Degree – Feeling Irie".
Listen to "General Degree – Feeling Irie" on the reggaeville.com soundcloud.
***
Title: Feeling Irie
Artiste: General Degree
Produced by: Max Hustle, King Jabbi & Tom Hype
Played by: Florian Olsacher, Sam Gilly & Parvez Syed
Label: Germaica Austria
Release: January 27 2015
Taken from the General Degree EP "Feeling Irie"