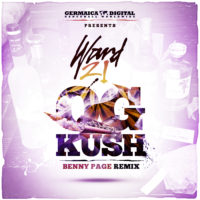 Taken from WARD 21's just released "Power Surge EP" the first single "OG Kush" was an immediate favourite with Soundsystems, DJs and Radios world wide. "OG Kush" has all the qualities to become yet another WARD 21 anthem for all the Gangstaz, Ghetto Hustlaz and naturally the Girlz.
To broaden the impact GERMAICA DIGITAL decided to give the track the remix treatment…
And here it is – an unbelievable Jungle rework done by UK "Music Maker & Champion Selector" BENNY PAGE: 
Listen Ward 21 – OG Kush (Benny Page Remix) here.
Ward 21 – OG Kush (Benny Page Remix) on iTunes
***
Title: OG Kush (Benny Page Remix)
Artiste: Ward 21
Producer: Trevor "Baby G" James
Label: Germaica Digital
Release: Nov21 2016
***
Links EP:
Ward 21 – Power Surge EP on iTunes
Ward 21 – Power Surge EP on Spotify