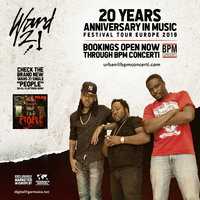 It is not only 2 decades for GERMAICA in 2019, but as well twenty years in the biznez for the Godfathers of Jamaican Hardcore!
Therefore WARD 21 and we as management are proud to announce the "20 Years Anniversary in Music" Festival Tour of Europe! The shows will be booked exclusively by BPM CONCERTI from Milan. Please direct all booking requests to: urban@bpmconcerti.com
In the meantime the nu brand WARD 21 single is pickung up speed in Jamaica w/ DJ KURT RILEY pumpin' it and Jamaica's current top dancer DANCING REBEL creating the moves for it just the other day!
***