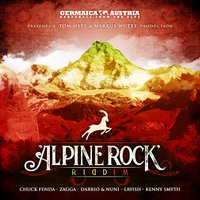 V.A. – Alpine Rock Riddim
The Klagenfurt based label GERMAICA AUSTRIA is back with yet another release, the somewhat unusual 'Alpine Rock' Riddim! Like an avalanche from the top of the Austrian Alps into the valley, the heavy Roots-Rock-Riddim rolls downhill. It features well established as well as promosing newcomers of the genre, namely CHUCK FENDA, ZAGGA, DARRIO & NUNI, LAVISH and KENNY SMYTH!
The 'Alpine Rock' Riddim selection is available from September 20 2019 on iTunes, Amazon, Spotify, Google Play and all other digital outlets.
V.A. – Alpine Rock Riddim (Germaica Austria 2019) on Spotify
*** 
Title: Alpine Rock Riddim
Artiste: Various
Producer: Tom Hype / Markus Wutte
Mix: Tom Hype
Guitars & Master: Markus Wutte
Drums: Sam Gilly
Label: Germaica Austria (AT-BS6)
Distr.: The Orchard
Release: Sep20 2019
Link Up:
MW Sound