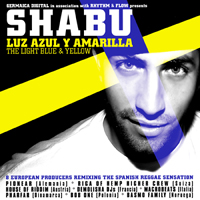 Spanish version below… Symbolizing the musical exodus from his native Andalucían background Málaga to Europe, "Luz Azul Y Amarilla" – "The Light Blue & Yellow" is the name of an rather unusual EP of Spanish Reggae singer SHABU… These 8 songs originally released under the name "Luz Verde" – "The Light Green" are hits already in Spain and South America, where SHABU enjoys a large number of followers.
Now GERMAICA chief PIONEAR re-voiced those songs on brand new instrumentals provided by various producers from different European countries. Namely RIGA of HEMP HIGHER (Switzerland) with an ultra-hardcore feature of rising French DeeJay CHARLY B, HOUSE of RIDDIM (Austria), DEMOLISHA DJs (France), MACROBEATS (Italy), PHARFAR (Denmark), BOB ONE (Poland) and BASMO FAMILY (Norway). By special request of "Germaica Viking" JODDSKI – the second featured Artiste of the release – the 8th song "Musical Hustler" was re-recorded on PIONEARs classic Germaican Records Riddim "Bitch".
These 8 songs show a rising Artiste who easily manages to master all contemporary styles in Reggae, whether Digital Hardcore or classic Analogue One Drop… SHABU has it all: hooks, lyrics and at every minute is able to keep the listeners attention with his intense and versatile delivery. Freshly signed to GERMAICA DIGITAL "Luz Azul Y Amarilla" is nothing more and nothing less than a first statement of one of Europe's biggest talents in Jamaican music. Check the snippet mix of "Luz Azul Y Amarilla" by DJ FLO of UPLIFTMENT INT'L in the GERMAICA Downloads section or here:
Shabu – Luz Azul Y Amarilla (Snippet) by upliftmentintl
SHABU the GERMAICA team and his management company RHYTHM & FLOW at the moment are working on several single releases which will hit the streets in the course of the next months…
Title: Luz Azul Y Amarilla/The Light Blue & Yellow
Artiste: Shabu
Label: Germaica Digital
Executive Producer: Pionear for Topp Ent./Germaica Digital
Master: Busy for True Busyness
Release: Oct. 22nd 2010
Media: Digital EP
Distributor: mp3.soundquake.com
***
Spanish version:
SHABU – LUZ AZUL Y AMARILLA – 8 PRODUCTORES EUROPEOS REMIXAN LA NUEVA SENSACION DEL REGGAE ESPAÑOL
Simbolizando el exodus musical de su nativa Andalucía hacia Europa, "Luz Azul y Amarilla" es el nombre del inusual EP de de SHABU 8 canciones originalmente editadas bajo el nombre de "Luz Verde" algunos de los cuales son hits en España y Sudamerica desde hace tiempo, donde SHABU dispone de gran numero de seguidores.
Ahora GERMAICA, con PIONEAR a la cabeza, ha regrabado estas canciones con nuevas instrumentales aportando varios productores de defierentes países europeos: RIGA of HEMP HIGHER (Suiza) con la hardcore colabo del DeeJay CHARLY B de Francia, HOUSE of RIDDIM (Austria), DEMOLISHA DJs (Francia), MACROBEATS (Italia), PHARPHAR (Dinamarca), BOB ONE (Polonia) y BASMO FAMILY (Noruega). Por demanda del "Germaica Viking" JODDSKI, la segunda colabo del EP, la octava canción "Musical Hustler" fue regrabada on el clasico ritmo de Pionear (Germaican Records) "Bitch".
Estas 8 canciones enseñan a un prometedor artista que facilmente mezcla todos los tipos de Reggae en la actualidad: desde el Digital Hardcore al clasico One Drop. SHABU aportda de todo: estribillos y letras que en todo momento mantienen atento al oyente con su estilo intenso y versatil.
Recien editado por GERMAICA DIGITAL, "Luz Azul y Amarilla" no es nada mas que la confirmación de uno de los nuevos talentos europeos a tener en cuenta por lo que respecta a musica Jamaicana. SHABU el equipo de GERMAICA y su agencia de management RHYTHM & FLOW en este momento estan trabajando en diferentes singles que golpearan la escena en los proximos meses.
Titulo: Luz Azul Y Amarilla
Artista: Shabu
Sello: Germaica Digital
Produccion Ejectiva: Pionear para Topp Ent./Germaica Digital
Master: Busy para True Busyness
Fecha Lanzamiento: 22 otubre 2010
Formato: EP Digital
***
Link Up:
Shabu – Luz Azul Y Amarilla (Snippet) by upliftmentintl